The article, "Retirement: Is 80 the New 60?" discusses how the national retirement age of 65 is trending higher these days. They say that people are planning to continue to work well into their "golden years" with the expected age of retirement to be more around 80 years old! Reasons cited for this delay in retirement center around financial security but some 35% surveyed said they just wanted to keep working.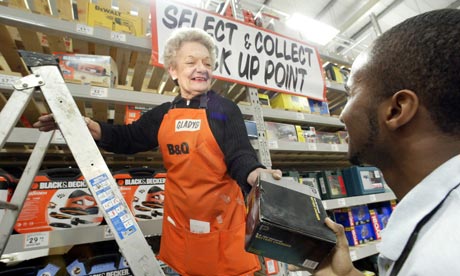 We have recently read The Anxiety Cure that was all about stress, worry, and anxiety disorders. The author, Dr. Archibald Hart, quoted the National Institute of Mental Health saying, "more than twenty-three million Americans suffer from some form of anxiety disorder, including panic anxiety disorder, obsessive-compulsive disorder, posttraumatic stress disorder, phobias, and generalized anxiety disorder." (Hart, 1999, p. 7). In addition to the benefits of medication and therapy, Hart gives practical methods to reclaim tranquility in an over-anxious world. Among a myriad activities, situations, and foods to avoid, and those to add to your lifestyle, Hart says we do not get enough sleep, we experience long periods of stress and conflict, and are under assertive. He says to combat anxiety we need to slow down, take time to rest, meditate, and break out of the type A personality rut.
I believe the attitudes of the generation that are at retirement age are indicative of the society that is addicted to adrenaline and stress. The article states that 80% of the people surveyed believe the age of retirement should have nothing to do with age, but about how much money is set aside. Only 20% said we should just pick an age and then retire. Many people simply do not want to retire. Why is this? Perhaps these people have never learned to settle down and relax and they simply do not know what to do with the time that could be theirs in their golden years. Then there is the subject of money. "Americans are bad at saving," says the author of the article. I would propose this is due in part with "keeping up with the Jones'" syndrome of our American dream mindsets. Keeping up with the standards in our heads and those around us costs money and so we spend, we work longer, harder, and we spend more. This cycle drives us to work longer hours, experience greater stress, and feel guilty when we are not busy and filled with adrenaline. "Pleasure, like a mountaintop, is only pleasurable when surrounded by valleys of tranquility, calmness, and peace." (Hart, p. 97). This enjoyment certainly doesn't need to only come at retirement and according to this article, without taking time for tranquility, calmness, and peace in the midst of our over anxious lives, we may never even get to that relaxing retirement we look forward to.